If you're like many people looking for basement ideas you can be quickly overwhelmed with too many options. Simply opening your phone and launching Pinterest for only a few minutes results in a wall of images and DIY solutions that may at first seem great, but end up being niche ideas for very specific situations. This can easily cause information overload leading you to feel like you'll never get it right. Don't give up so easily, though. Help is on the way.

Consultation With Professionals Yields Immediate Results
There is nothing wrong with scouring the web for great design ideas. The thing is, most of the really nice stuff you stumble on was designed and built by professionals. They were able to directly consult with the homeowner and go through the whole process of designing a new space from start to finish.

A basement renovation is far from a piece-it-together-with-toilet-paper-rolls kind of DIY situation. It requires a great deal of understanding, knowledge, and skill to get the job done safely, effectively, and up to local municipal building code – not to mention in style! When you consult with the professionals, you can land on the latest interior design trend that works for you and come up with an action plan to achieve your goals.

Let's have a look at the latest design ideas that are making an impact this year.
Quality Basement Ideas – Profesional Interior Design Results
It's time to narrow down some of the latest interior design trends of the year so you can make your preferences known when consulting with your contractor and interior designer.

1. The Statement Ceiling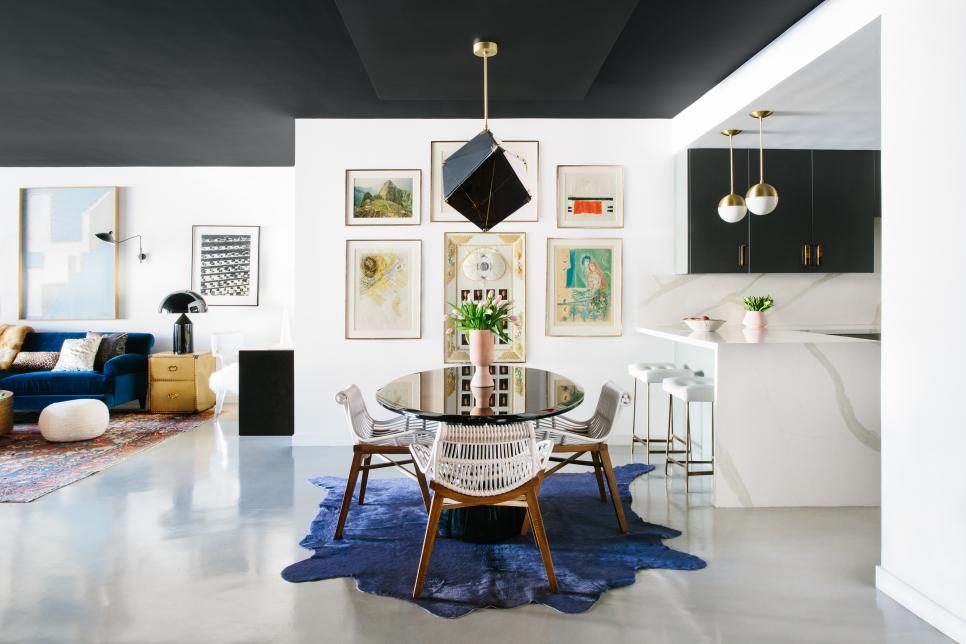 Great design uses contrast as one of the ways to make a space exciting. For many years feature walls (aka statement walls) were all the rave. They still are, in fact, and may very well be part of your final design. But why leave out the ceiling? This recognition of your lonely ceiling is turning into an excellent new trend – statement ceilings!

There are many great ways to create an exciting and personalized statement ceiling. Color, texture, and contrasting materials all play a role in creating something with personality. A few of these methods can include:

Open wood – Older farmhouses and rural homes often have a shiplap wooden construction under the drywall. This can be utilized to create a chic modern rustic look that is sure to impress. You can also choose to install a milled pine or hardwood for a more modern feel in a newer home without a shiplap interior.
Exposed beam – If your home has wooden (or even metal) beam construction, you can leverage them for a modern look. They add a nice contrast and can boost the appeal of a room with some cool lighting fixtures and contrasting color.
Contrasting color – Choosing to optimize your room with vivid color can make a bold statement. There are many applications like choosing from contrasting sheens (like matte and semi-gloss stripes) or even slightly differing colors. Matte black with deep blue stripes contrasted with white walls and a great floor can make a boring old space come alive again.
Wallpaper – Yes, that's right. Wallpaper. If you're someone who has already gone through a painstaking wallpaper removal, you may be averse to installing more. But you may want to consider this great design option. It's a popular trend right now and can add a very interesting experience to your ceiling.
Coffered ceiling – Sure, this is not a new trend necessarily. Even so, it does have a certain appeal in the right application.
2. Geometric Patterns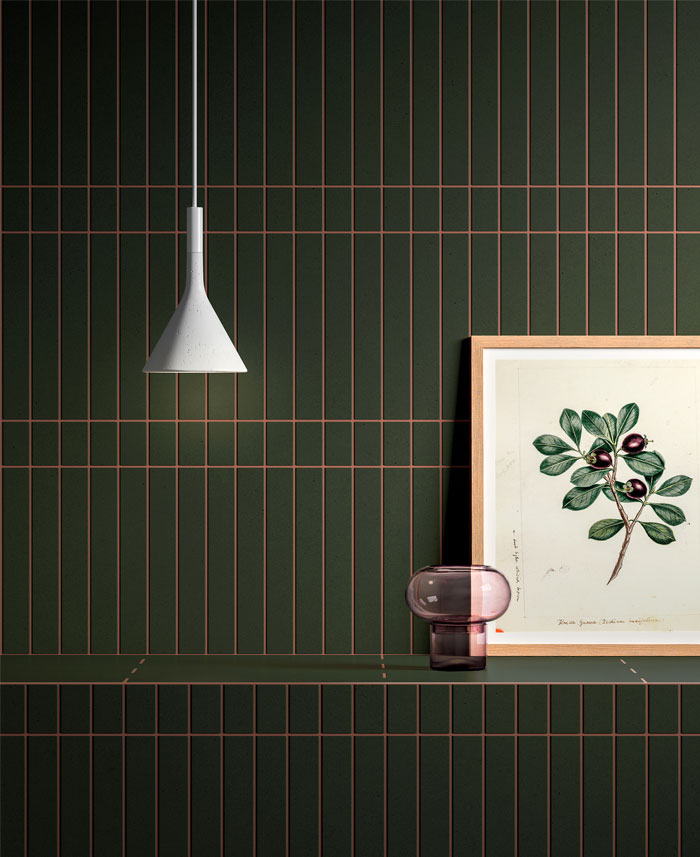 When it comes to cool design ideas, especially great bathroom ideas, strategic use of geometric patterns can create a fantastic experience of your space. There are many ways to accomplish this. Sometimes creative painting techniques are used to design specific shapes and forms that contrast with another layer of paint or other chosen materials. Tiles can be used to create all kinds of fantastic shapes and patterns that give a space more life. Wood and other materials can all be utilized to create an orchestra of varying colors, shapes, and patterns that all coalesce into an overall symphony of satisfaction fit for royalty.
3. Bold Wallpapers, Earthy Tones, Ombre Walls
Wallpaper is coming back in a big way this year. The idea is to choose an area that could use a bit more pizazz and opt for a large print to fill the area. Natural elements like birds, trees, branches, and feathers can all make for a comfortable and luxurious experience.

Earthy tones are the new black. You find them popping up everywhere in modern design, and for a good reason. They are relaxing, inspire a natural paradigm, and offer plenty of room for other elements in the space. Talk to your designer to see how a fun earth tone palette can spice up your life a bit.

Ombre walls are the crown jewel of feature walls. The reason is that they require a great deal of skillful painting to look great. Ombre walls create a gradient look that fades two or more colors together as the eye traces from floor to ceiling. It may cost a bit more for this approach, but the end result is worth it.
4. Matt Black is the New Grey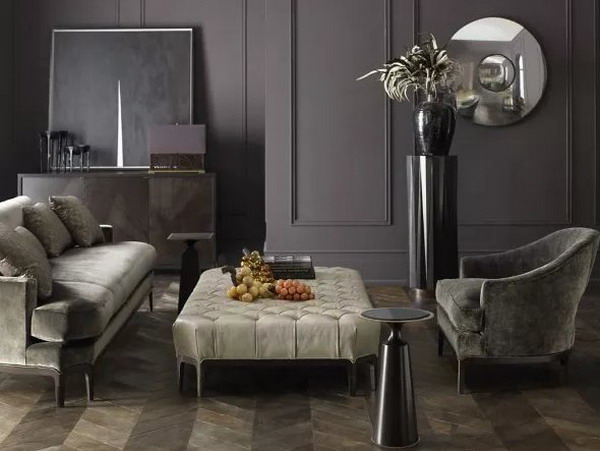 If you're into the darker shades of grey and really love how they make your space pop, you may want to try out matte black instead. There is something mysterious and classy about a matte black finish that wins the heart of the right homeowner. Preparing the space for this color is as simple as making sure that your furniture, accessories, and lighting all blend together to create a wonderful contrast of lights and darks, curves and lines, highs and lows.
5. Less is More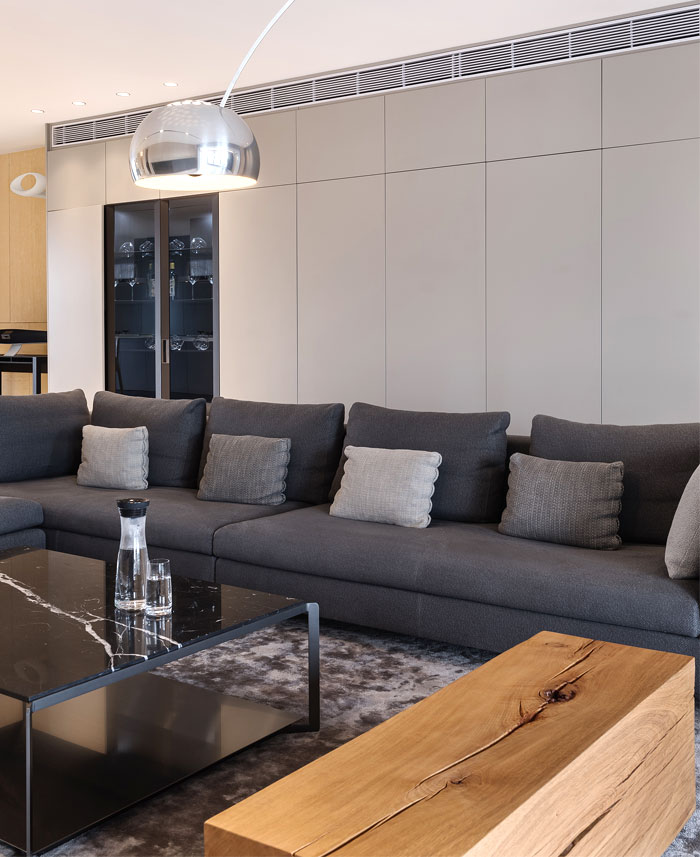 Minimalistic designs have been popular for many years and not going anywhere soon. When you choose the right materials, colors, lines, and curves you can make a space look absolutely stunning while keeping the space open, clutter-free, and spacious. This method allows for simple design elements to be installed that create wonderful contrast, such as colorful wall art, vases, fixtures, furniture, and lighting.
6. The Green Kitchen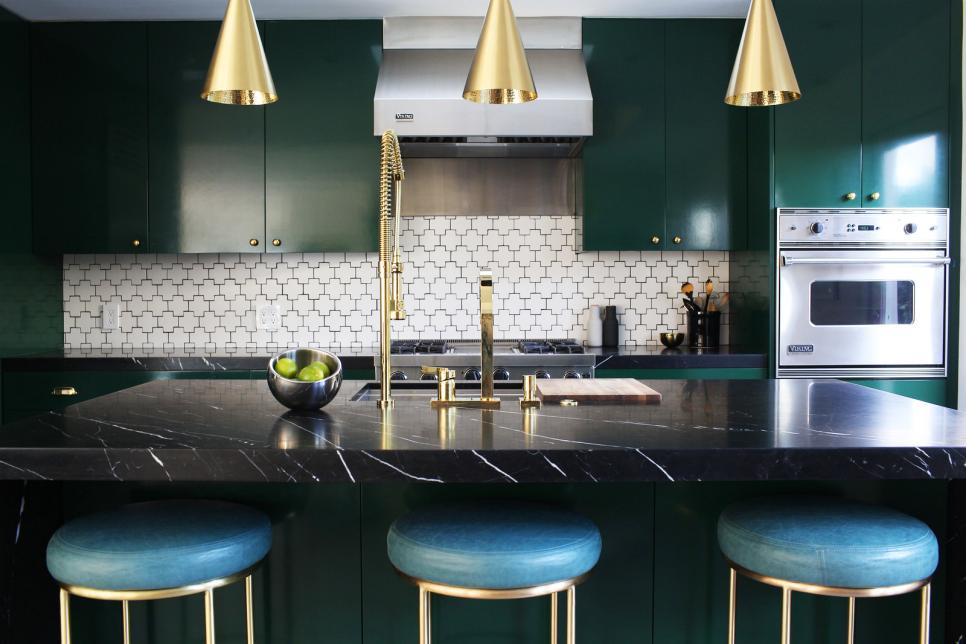 Some say that the kitchen is the heart of the home. This makes it an important part of your renovation project and can elevate your experience for years to come. Color plays an important role in the kitchen and can impact all kinds of things – including digestion, appetite, and overall sense of wellness! Choosing to add green colors in the kitchen, especially of the earthier variety, can have a positive and uplifting effect.

On the topic of the green kitchen, this also means thinking about your environmental impact. The appliances, materials, lighting, and fixtures you choose can all be energy friendly, come from various recycled materials, and utilize natural stone, wood, and metal rather than fabricated products.
7. Curved Edges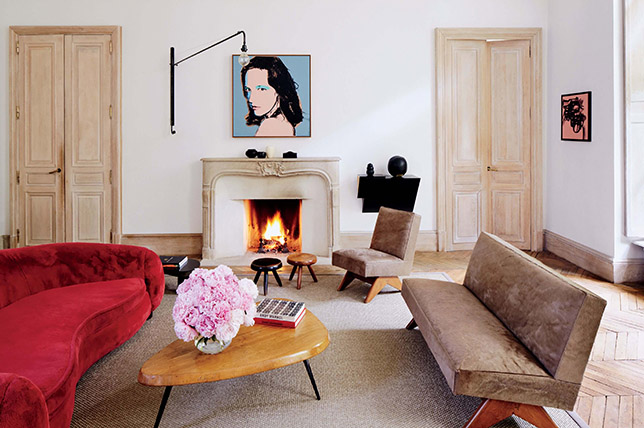 Straight lines are always going to be a thing. They help to create definition and separation in a clean and efficient way. They are easy to build and are easy to work with because most building materials block together well when the areas are laid out in straight lines. Even so, using a bit less of the straight masculine lines we are all used to seeing and employing more of the curvy feminine lines can make a space feel more balanced, adventurous, and inviting.

You can use all sorts of methods to accomplish this – rounded corners on your walls, intricate curvy dividers, furniture, windows, and archways, among many others. Any curvy component you add to your space will help to add contrast and bring out a sense of satisfaction while in the room. Not all curvy elements are treated equally, however, and consulting your designer about what to add will go a long way in making sure your space feels amazing this year.
Great Materials Make Great Spaces
When it comes to choosing the kinds of materials you install in your home it's a good idea to make sure you have the budget for higher quality materials. There are many reasons for this other than luxury. Many of the low-quality materials on the market can have issues over time. Rather than a particle board countertop, opt for solid wood, stone, or quartz. Instead of laminated flooring, opt for tiling, wood, or even ceramic.

These choices not only preserve the life of your space but also make sure to protect you and your family from various environmental toxins that are found in fabricated building materials. The glues, binders, sealants, and other substances in some products can be harmful to your health and are best avoided. If you are on a tight budget, talk to your designer about great natural solutions at a decent price. Sometimes you can find high-end recycled building materials locally that can save you money but still give you the quality end results you would love to have.

Your Basement Renovation Is In Good Hands
As design trends come and go, the professionals that help you to achieve amazing results are here to stay. They work hard every day to provide exceptional service for their clients – and it shows. Every renovation that a reputable company completes is like another small addition to the happiness in the world.

If you are considering a basement renovation this year and want to make sure you get the best results available (at a reasonable price), then prepare yourself to consider some options. After all, it's time for your basement ideas to come to life this year. You're new space is going to shine!

Are you ready to make a great impression? Excellent. Reach out today and let's get to work.

Or call me
+1 647.526.6199